GOOGLE PAY is a mobile wallet from Google for making contactless payments with your device using NFC technology based on Android 5.0 and higher. Just add a PRAVEX BANK card to your mobile wallet and make fast and secure payments!
To start using the service, make these three steps:
1. Download the Google Pay app. Sign in Google Play and download the Google Pay application or follow the link
2. Add a PRAVEX BANK card:
take a PRAVEX BANK card;

click "add a card";

take a photo of the card or enter the card number, month / year of the card validity and CVC-2 code on the back side of the card;

fill in your payment address, if necessary;

read and accept the terms of the User Agreement;

click "Save"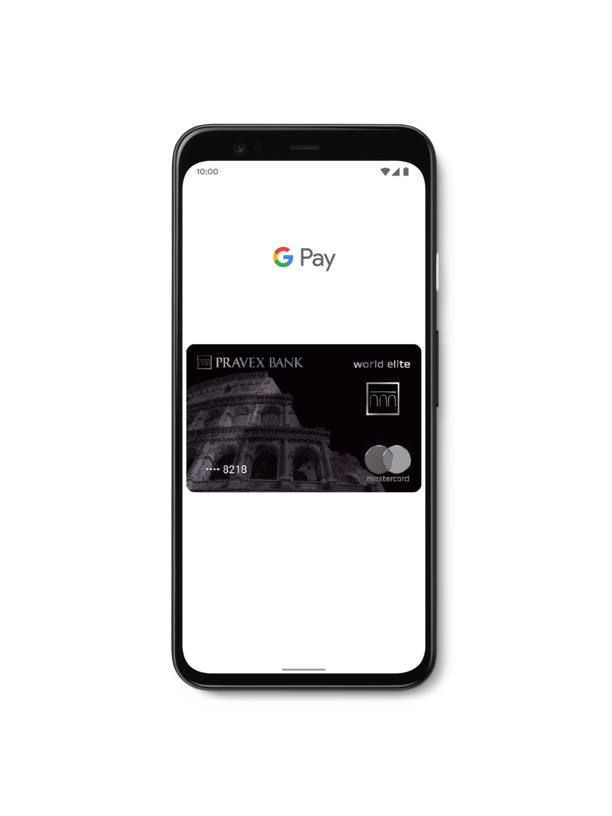 3. Make settlements. You can pay for purchases, if you see:
unlock your smartphone;
bring the smartphone close to the contactless POS-machine;
confirmation of the successful transaction will appear on the screen of your smartphone.
shortly after the purchase, you will receive a message on your phone with a receipt stating the details of the transaction.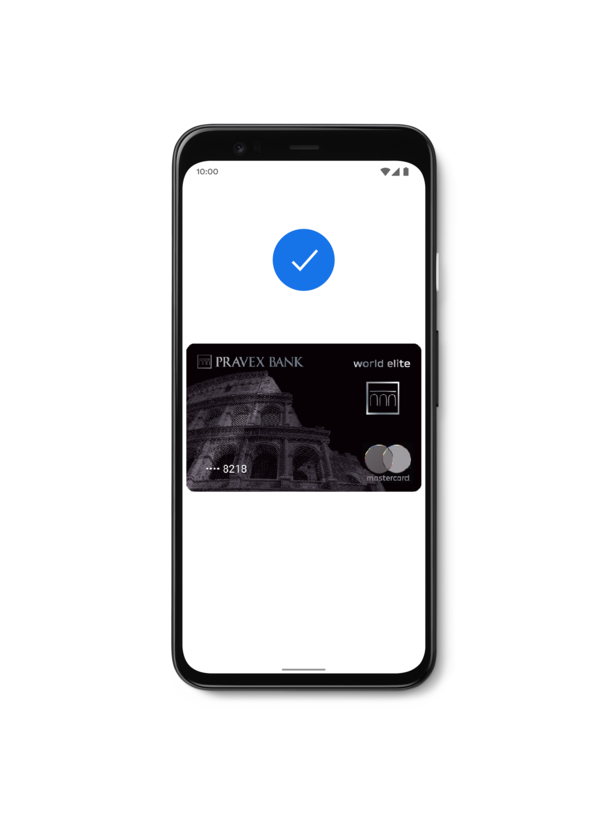 What is Google Pay?
Google Pay is a mobile payment system developed by Google that allows you to make purchases using mobile devices on the Android platform. Such devices can be smartphones, tablets, watches etc. Payment is made with help of the appropriate application using NFC technology. One more requirement is the version of the operational system Android 5.0 or higher.
Warning! Google Pay is not supported on devices with open root access. Also, be sure to turn on the screen lock setting on your smartphone.
What is NFC?
Near field communication, NFC - technology of wireless high-frequency communication of small range "in one touch". This technology allows data exchange between devices, primarily smartphones and contactless payment terminals, which are at the distance of about 10 cm.
How can I check availability of NFC on my smartphone?
There are several ways to check availability of NFC on your device:
The inscription Near Field Communication on the battery:
In the device settings menu:
Which card can I add to Google Pay?
You can add the following Pravex Bank payment cards with both a magnetic tape and a chip: Debit Mastercard ®, Platinum Mastercard ®, World Elite Mastercard ®, Visa Classic, Visa Platinum, Visa Signature and Visa Platinum Business.
Can the same card be added to several different devices?
Yes, one card can be added to different devices, a separate digital copy of the card is created for each wallet.
What information do I need to provide when adding a card to Google Pay?
Follow the indications in the step-by-step instructions of the application. In this case it is absolutely safe to provide the card data (number, expiration date and CVC-2 code). Data security is guaranteed by a payment system that is certified by Google.
Do I need the Internet to make payments by phone?
At the stage of tokenization (adding a card to the wallet) Internet access is required. Internet access is not required at the moment of payment.
Is it safe?
When you add a card to Google Pay, its digital analogue (token) is created, which works only on the device, on which it was created. If you add a card again on the same or another device, a new unique token is created. During the operation, the token is used, but not the actual card number. Thus, the card data remains under the protection of encrypted data. Data security is guaranteed by the International Payment Systems.
Is using Google Pay paid?
There are no fees for using Google Pay.
Is it necessary to enter the PIN code on the POS-machine when making payments using Google Pay?
It is not required to enter the PIN code. For payment in the amount of less than UAH 500 for Mastercard cards (UAH 1 500 for Visa cards) you only need to bring the phone close to the POS-machine. While making a payment in the amount of more than UAH 500 for Mastercard cards (UAH 1 500 for Visa cards) you must first unlock the smartphone screen. Restrictions on third-party access to your mobile device by setting digital or graphic passwords or biometric identifiers are required to use Google Pay. This is a guarantee of payment security.
What to do, if my phone is stolen or lost?
In case of loss of the mobile device, it is necessary to call the PRAVEX BANK contact center to block the token on 0 800 500 450 or +38 044 521 04 04. It is still possible to use a physical card.