since 05.08.2019 year new accounts to clients of JSC "PRAVEX BANK" to open according to the international Bank account number IBAN in accordance with the requirements of the standard ISO 13616.
the Account in the format IBAN will consist of 29 alphanumeric characters, laid out in the following sequence:
code of Ukraine – UA-2 letters;
check digits – 2 digits;
Bank code – 6 digits;
count – the length of the account number is not fixed (to 12.01.2020 years – from 5 to 14 symbols, with 13.01.2020 years – from 5 up to 19 characters).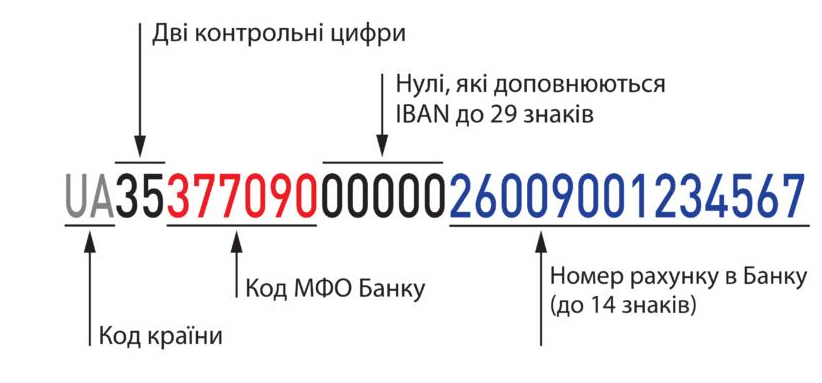 In the period from 05.08.2019 to 12.01.2020 customers in the documents on the transfer of funds in national or foreign currency can fill in the details "Bank Code" and "Account" in any variations, that is, to fill in a few details (the account number of the payer/recipient and the Bank code of the payer/recipient), and the account number of the payer/recipient according to the standard IBAN.
the Current customer account numbers for 05.08.2019 to 15.10.2019 JSC "PRAVEX BANK" will be free to change in accordance with the requirements of the standard IBAN while maintaining the current numbers of analytical accounting. Account numbers (for sole traders and legal persons) in the format (IBAN) will be forwarded to DFS to 15.10.2019.
the New numbers are in the format IBAN are available to customers in system PRAVEXBANK BIZ / PRAVEX ONLINE already 05.08.2019 (for accounts opened on 05.08.2019) and 15.10.2019 (for accounts opened before 05.08.2019).
since 13.01.2020 use IBAN will become mandatory for all Bank customers in the implementation of money transfers both in national and foreign currencies, including cross-border transfers. That is, all transfers are carried out by only using the IBAN.
the Changes apply only to the Bank account number. All payment cards issued by the Bank to the customer's account remain in effect.
the signing of new contracts or renewal of customer accounts is not necessary.
Information regarding number in IBAN format customers can get on the technician outlet of PRAVEX Bank.
View the memo for Bank customers in connection with the introduction of the IBAN
Details replenishment of card accounts of natural persons by means of transfer in national currency:
Transit score: 29240700469584 / UA473808380000029240700469584 (IBAN) (one on the BANK in the national currency only)
MFO: 380838 in the case of using account number (IBAN) - 0
enterprise: 14360920
Bank of recipient: JSC "PRAVEX BANK."
Recipient: JSC "PRAVEX BANK."
According to the requirements approved by the NBU Instruction No. 22 of 21.01.2004 in the PURPOSE of PAYMENT be SURE to must be specified: the name of the recipient (account holder); the Number of the card account (technical account card) of the beneficiary; the purpose of the transfer (enrolment). According to a document.