19.10.2018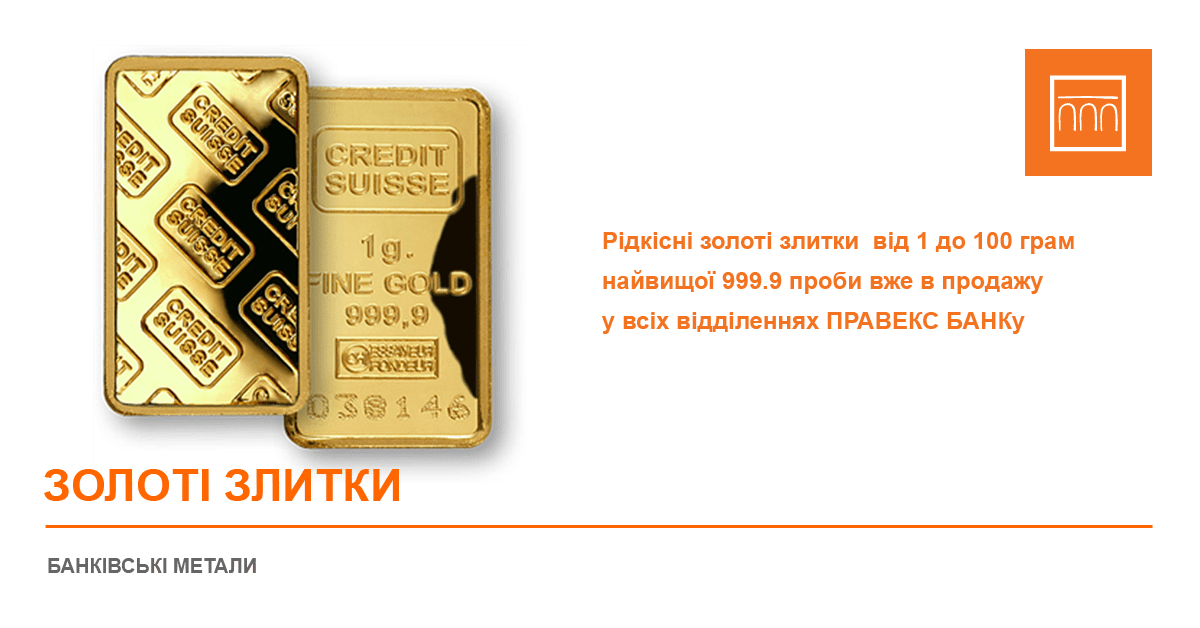 Recently, PRAVEX BANK, which is one of the leaders in the purchase/sale of Bank metals to Ukraine, bought gold bullion from the recognized world's leading manufacturer, the Swiss company Credit Suisse.
the presence of bars from small to large size – from 1 to 100 grams, high purity 999.9, which are quite desirable in Ukraine and in high demand from customers. Typically, small bars can be an interesting and unusual gift or savings.
Buying gold bullion by the Bank regularly, so for our customers, the bullion is almost always in stock.
Buy gold bullion from 1 to 100 grams. the highest rate of 999.9 gold and silver coins of the world manufacturers, You can in cash offices of the Bank, regardless of the region of Ukraine.
We invite everyone to enjoy precious metals, gold and silver coins at any of our offices.
Please note that the purchase of the clients of bullion metals is carried out only in the following locations:
Kyiv at the address: Klovsky Spusk, 9/2; tel: (044) 201-17-47
M. winery at: vul. Gogol, 30; bodies: (0432) 65-53-72; (0432) 65-53-73
M. Kharkiv at: vul. Pushkin, 68; tel.(057) 759-04-34, (057)706-16-16 , (057) 759-04-24- Fax
M. Dnipro at: vul. Shevchenko, 59; tel.(056) 744-72-76, (056) 744-63-21 p>
read More about precious metals, coins and prices ... or by phone (044) 201-17-47.
For reference:
JSC "PRAVEX BANK" is part Bank group Intesa organisation (C Sanpaolo), what is included to number the leading banking groups the Euro zone and leader in Italy so uma napryamki Bank DALnet (rosti, korporativni segments and financial management) and serves 11,9 million clients in 4,500 branches throughout Italy; market share Group in most of the Italian regions is not less than 12%. Group Intesa organisation also present in Central and Eastern Europe, countries Middle East and North Africa. In these regions is about 1 100 offices and 12 countries where subsidiary banks operate Group number retail and corporate customer reaches 7.5 million