11.01.2017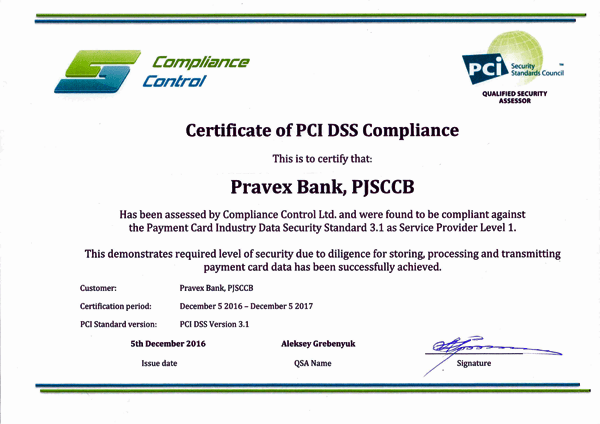 PRAVEX-BANK successfully completed the audit and received the certificate of conformity to the international data security standard payment cards-PCI DSS for 2017. This suggests that the Bank, as always, provides the highest level of data security maps customers.
the Audit included a comprehensive review of security security of payment cards and client data security standard, which was developed by leading payment systems Visa and Master Card, and the same for banks worldwide.
the Independent auditor by the company "Compliance Control". Highly qualified specialists of PRAVEX-Bank and Compliance Control has solved many difficult technological and organizational issues in the implementation of the project to ensure full compliance with all the requirements of PCI DSS safety standard.
"Bank conducts ongoing audits of systems to ensure security of transactions with payment cards and annually confirms their compliance with international standards PCI DSS. We further continue to improve the security management system to guarantee our customers maximum data security of payment cards," — said a member of the Board, Director of the Department for prevention of legalization (laundering) of proceeds from crime and internal security Ihor Tkalich.
About the PCI DSS security standard
data security Standard PCI DSS developed by the standards Council security payment card industry (Payment Card Industry Security Standards Council, PCI SSC), established by international payment systems Visa, MasterCard, American Express, JCB and Discover. Standard is a set of 12 detailed requirements for the security of data on cardholder data transmitted, stored and processed in the information infrastructures of organizations. The adoption of appropriate measures to ensure compliance with the standard should be a comprehensive approach to information security payment card data.
background:
Group Intesa Sanpaolo is one of the largest in the Eurozone. As of December 30, 2016 the market value is 40.6 billion euros. The group is leader in Italy in all banking activities (retail, corporate segments and financial management) and serves 11.1 million customers in 4,000 branches across Italy; the market share of the Group in most Italian regions is not less than 12%. Intesa Sanpaolo is also present in Central and Eastern Europe, the Middle East and North Africa. In these regions there are about 1 200 offices in 12 countries, where subsidiary banks operate, the Group, the number of retail and corporate customers reaches 7.9 million moreover, an international network of professionals working with corporate clients covers 29 countries, in particular, the middle East, North Africa, and the regions where active work of the Italian company: the United States, Brazil, Russia, India and China.