Visa Signature
World Elite Mastercard and premium cards
Earn with us
Protect your family
Manage your time
Relax comfortably
Unique solutions
Travel insurance up to 500 000$
10 FastLine at airport Boryspil
Visa Luxury Hotels Collection
Elite service and unique privileges at any time in any corner of the world
Read more
Read more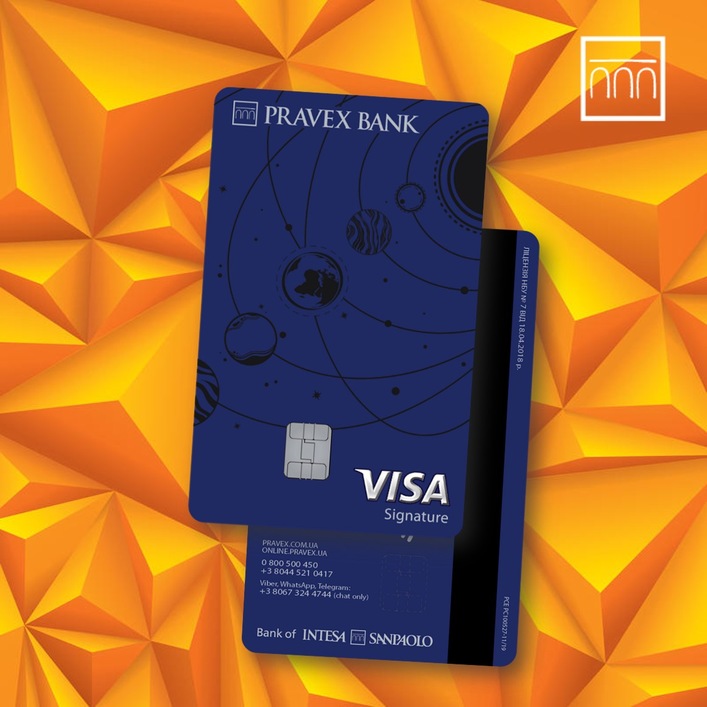 Visa Signature shows the status of the client. In addition to flawless execution of the payment functions that it provides to the card holder additional benefits which greatly enhance his impressions and experience at each stage of the journey.
PLANNING
booking accommodation at agoda.com (more than 985 thousands of hotels to 12% discount)
Visa Luxury Hotel Collection (special privileges in hotels)
Concierge service (free, 24/7)
insurance (protection of purchases, flight delay and baggage protection against loss)
ROAD:
10 free visits to Lounge key a year (more than 1 000 lounge airports)
10 free packagings of suitcases in the airport Boryspil for a year
10 free for a year fast line at the airport Boryspil
Uber (10 discounts in the amount of 50% on the trip to/from the airports in Kiev per year)
ABROAD:
global user support
Medical and informational support
Avis car rent (35% off)
travel Insurance (up to 1 million U.S. dollars)
Special offers from international brands.
RETURNS:
the Program "privileges" (deals and discounts)
Elite service and unique privileges at any time in any corner of the world
Free business-lounges of МаsterCard in the airports of the world
Service card Priority Pass
Free Fast Line at Boryspil Airport
Voluntary health insurance "Family Elite"
Credit limit up to ₴450 000
Read more
Read more
З пакетом послуг FAMIGLIA R&B Вам доступно:
- World Elite Mastercard PayPass забезпечує елітний сервіс і унікальні привілеї в будь-який час у будь-якому куточку світу для найбільш вимогливих клієнтів. Держателі картки отримують виняткове обслуговування: найвищий рівень турботи, безпеки та конфіденційності, особливі фінансові та нефінансові послуги тощо.
- безкоштовне поповнення та зняття готівки на території України, а також у банкоматах банків групи Intesa Sanpaolo за кордоном в рамках лімітів;
- сервіс «3D Secure» для безпечних розрахунків в мережі Інтернет;
- безкоштовний SMS-банкінг;
- відсутність плати за конвертацію валюти;
- повернення TAX FREE: по чекам Global Blue до 19 % від вартості закордонних покупок;
- економія на кожному $ або € при розрахунках карткою за кордоном завдяки вигідному курсу конвертації;
- сервісна картка Priority Pass – програма доступу до бізнес-залів аеропортів в більш ніж 1000 аеропортах в більш ніж 500 містах по всьому світу;
- безкоштовний доступ до лаунджів Mastercard в аеропортах.
Власникам карток World Elite Mastercard PayPass надаються наступні переваги:
1. Безкоштовне відвідування бізнес-залів Маstercard, розташовані у наступних містах:
Київ (Бізнес-зала Mastercard Lounge розташована у терміналі D Міжнародного аеропорту Бориспіль та в аеропорту Жуляни);
Будапешт (Бізнес-зала Mastercard Lounge розташована у Міжнародному аеропорту ім. Ференца Ліста);
Бухарест (Бізнес-зала Mastercard Lounge розташована у залі міжнародних вильотів Міжнародного аеропорту ім. Анрі Коанда);
Відень (Бізнес-зала Jet Lounge | Sky Lounges розташована у Міжнародному аеропорту Швехат);
Прага (Бізнес-зала Mastercard Lounge розташована у терміналі 1 Міжнародного аеропорту ім. Вацлава Гавела);
Москва (Бізнес-зала Mastercard Lounge розташована у терміналі E міжнародного аеропорту Шереметьєво);
Тбілісі (Бізнес-зала Mastercard Lounge розташована у міжнародному аеропорту ім. Шота Руставелі);
Батумі (Бізнес-зала Mastercard Lounge розташована у міжнародному аеропорту Батумі);
Кишинів (Бізнес-залаMastercard Lounge розташована у міжнародному аеропорту Кишинів).
2. Привілеї та спеціальні пропозиції від платіжної системи Mastercard:
- Безкоштовна послуга «Fast line» в аеропорту "Бориспіль" при підключенні до послуги "Mastercard Concierge" - це проходження авіаційної безпеки та паспортного контролю без черг, через окремий коридор. Переглянути умови користування
- Оформлення сервісної картки Priority Pass – це найбільша в світі програма доступу до бізнес-залів аеропортів в більш ніж 1000 аеропортах в більш ніж 500 містах по всьому світу. Вартість 1-го відвідування залу очікування - USD 32 за 1 особу. Власник картки може провести з собою гостей.
- Добровільне медичне страхування "Фамільний Еліт" від СК "ARX" з покриттям до 80 тис.грн.:
- швидка медична допомога,
- невідкладна стаціонарна допомога,
- діагностика та лікування критичних захворювань (інфаркт/інсульт),
- злоякісні новоутворення,
- амбулаторно-поліклінічна допомога (в умовах поліклініки, лабораторна діагностика, денний стаціонар, фізіопроцедури),
- виклик лікаря до дому.
- Можливість придбання страхового продукту «Медицина без меж» з покриттям до 2 млн.євро – організація та оплата лікування ряду критичних захворювань у провідних клініках світу. Переглянути
Read more
Read more
the Best course on the cards:
the Lack of charges for foreign currency exchange.
Savings on every USD or EUR in payments by card abroad or on the Internet.
Free cash withdrawals at ATMs in Ukraine and abroad at ATMs of Intesa Sanpaolo group: on the territory of Ukraine up to 200 thousand UAH. or 150 thousand UAH. in ATMs of PRAVEX Bank, banks-partners of the United ATM network "Atmosphere" and 150 thousand UAH. and 50 thousand UAH. in ATMs of other banks. Abroad without restrictions from the card accounts in USD, EUR and the equivalent of UAH 50 thousand. from the card accounts in UAH.
Premium cards and current accounts for the whole family:
World Elite MasterCard PayPass - a contactless chip card of the highest class in the line cards.
Contactless chip cards Visa or MasterCard Platinum, Gold, Classic/Standard in different currencies, including the Platinum card, for kids from 4 years.
Card Visa Virtuon in USD and/or USD for secure payments on the Internet.
Free connection to MasterCard Secure Code/Verified by Visa.
High interest rate:
Keeping the balances on card or checking account, earn additional income in local currency, due to the high interest from a reliable Bank.
Current accounts for the whole family:
in rubles, $, € with loyal tariffs;
- SWIFT transfers with a 25% discount;
- free payment transfers via SWIFT card.
Modern Internet banking ONLINE PRAVEX:
- free card with cards of other banks;
- information on accounts and cards, deposits and loans;
- transfers between cards of other banks only 0,4 % + 5 UAH;
- free cashless payments;
- the management.
- easy payment of utility bills, recharge mobile phone, Internet etc ;the
reservation of additional services.
Credit limit up to 450 000 UAH.
- 60 days grace period;
- low interest rate.
safe Deposit box with 50% discount a period of 1 year.
E-license - investment from private foreign currency accounts in Ukraine to:
- perform own obligations to the non-resident under a life insurance contract;
- allocation of funds to your own account outside of Ukraine;
- implementation of investment abroad.
Operations investment:
- purchase of corporate rights of the company;
- Foundation of the company abroad;
- investment in investment funds, securities markets;
- operation on investment contracts with companies and brokers with the aim of investment activity in equity markets;
- purchase of the property.
Medical insurance Family Elite - insurance amount UAH80 000 per year
Medicine without borders - covering up to 2 mln euro
Read more
Read more
the


Health insurance for clients of PRAVEX BANK who are the owners of the package FAMIGLIA, from SK ARX .
SURNAME ELITES – the policy of voluntary medical insurance provides the widest range of medical services.
- organization of the examination and necessary treatment in a day hospital and clinic.
- Provision of medicines during treatment.
- delivery of medications to your home or office at a discount from ARX.
- Ensuring the possibility of treatment in private clinic "Boris", "Medic", "Dobrobut", "Oberig", "Viva", "Into-Sana", and the like.
- payment of the treatment expenses in the amount of 80 000 UAH per year.
- the Organization of round the clock help and advice on medical issues 24/7.
the program SURNAME ELITES includes:
- medical Emergency service: providing round the clock emergency medical assistance, medical support, and transportation by ambulance to the hospital.
- Emergency inpatient care: the organization of medical care in a hospital for medical ambulance/physician clinics.
- Call a doctor and paying for medication for the purpose: organization and delivery of health care at home or in the office on working days according to the schedule of the clinic or doctor.
- Outpatient care: consultation with specialists in polyclinics; treatment in a day hospital; treatment of the underlying disease in an outpatient setting; provision of medicines for treatment in outpatient conditions.
- Diagnosis and treatment of critical illness: provides for the organization and payment of medical assistance, provision of medicines, the diagnosis of any insured person in terms of day-hospital and outpatient conditions, myocardial infarction and stroke/infarction in the brain and malignant neoplasms.
MEDICINE WITHOUT BORDERS – the OPPORTUNITY to PURCHASE an INSURANCE PRODUCT WITH COVERAGE of up TO $ 2 MILLION. THE EURO: THE ORGANIZATION AND PAYMENT OF TREATMENT OF SEVERAL CRITICAL DISEASES IN LEADING HOSPITALS OF THE WORLD.
5 reasons to choose a program " MEDICINE WITHOUT BORDERS:
1. Unlimited access to the best doctors in the world and the latest methods of treatment.
2. Medical consultation of leading experts of the world to establish the correct diagnosis.
3. Full payment of the treatment in the best medical centres abroad without any financial constraints.
4. Personal support each client during treatment.
5. Possible insurance program for the entire family.
coverage:
- treatment of malignant tumors;
- a coronary artery bypass;
- replacement or restoration of the valves of the heart;
surgical intervention;
- transplantation of organs/tissues in vivo from the donor.
Personal Assistant 24/7 service
Read more
Read more
Personal assistance 24/7 from PRAVEX Bank:

- in Ukraine and abroad by phone, e-mail, Viber or Telegram;

- private banker – to resolve financial issues;

- change limits on card with a message in Viber;

- ordering a taxi the hotel room reservation, rent a car, reserve a restaurant table;

- the order and delivery of tickets for transportation, events, museums, movies.

FOR MASTERCARD WORLD ELITE CONCIERGE:
- Free towing services for transportation to the nearest brand service station (the service is provided only on the territory of Ukraine).
- Access to the hall for official delegations of the airport "Borispol".
- Support in the field of office management /Administrative services.
- Invitation to special events and activities (available to customers on availability).
- Information services: the schedule of planes and trains, information on hospitals and clinics, spas, services for providing business information, recruitment meeting rooms, guide-interpreter, telephone country codes world weather, etc.
- Organizing and/or development of special/personal tours and/or Hiking trails around the world.
- Assistance in finding lost Luggage at airports around the world.
IN CASE of CONNECTION of a CONTACTLESS CARD MASTERCARD PLATINUM/MASTERCARD® WORLD ELITE MASTERCARD CONCIERGE SERVICES to the CLIENT AUTOMATICALLY AND FREE FAST LINE AT the AIRPORT "BORISPOL"!

---

Visa Concierge for holders of premalink cards Visa

From November 2019 customers – holders of payment cards Visa Platinum, decorated in the package FAMIGLIA, will be free to connect and use the service Visa Concierge from Visa for a period up to 31.08.2020. the List of requests being processed by the Visa Concierge service:

Information and Advisory requests: search contacts all institutions (shops, hospitals and the like), information concerning various events; other reference information.

- Organizational queries: reservation of seats in restaurants, ordering food, flowers, medications; selection and systematization of information; search for goods and services.

Travel: organization of travel; buying tickets; booking hotels; help finding Luggage that was lost; the lease transfers.



Insurance in case of card loss, loss of documents and luggage
Insurance for travel, business, active vacation - medical care for dangerous infections incl. Covid-19
1000 lounges in airports within Lounge Key and Priority Pass
Fast Line service – speed-up crossing of passport control and aviation security control in Boryspil and Kyiv Airports (Zhuyany)
Preferential terms of e-limits for buying and selling currency
Individual tailoring in a design studio
Accounts in precious metals and securities
Free professional advice on stock and financial markets
The privileged right to participate in events, business dinners, business discourses, seminars supported by CEO Club and Family banking
Read more
Read more
CAPITAL TIMES (WWW.CAPITAL-TIMES.COM):
services in the sphere of investment consulting;
- selection of liquid investment ideas;
- create an investment portfolio;
- manage the investor's assets;
- a macroeconomic analysis.
ESQUIRES (WWW.ESQUIRES.UA):
services in all areas of law, registration of foreign companies;
- www.sk.ua – all areas of law;
- www.ey.com services, tax planning and structuring for individuals.
BLACK SHIELD CAPITAL (WWW.BLACKSHIELD-ADVISERS.CO.UK):
- management services to large private capital;
- consulting support of transactions;
- trust management of assets;
- a customized investment portfolio securities;
- investment in a hedge Fund or private account.
ICU (WWW.ICU.UA):
- a regular review of the capital markets;
- management of the assets;
- investment banking services;
- trading operations, analyst and market review, macroeconomics;
- portfolio of securities – bonds/shares.
Choose additional services:
To apply for FAMIGLIA R&B