01.12.2021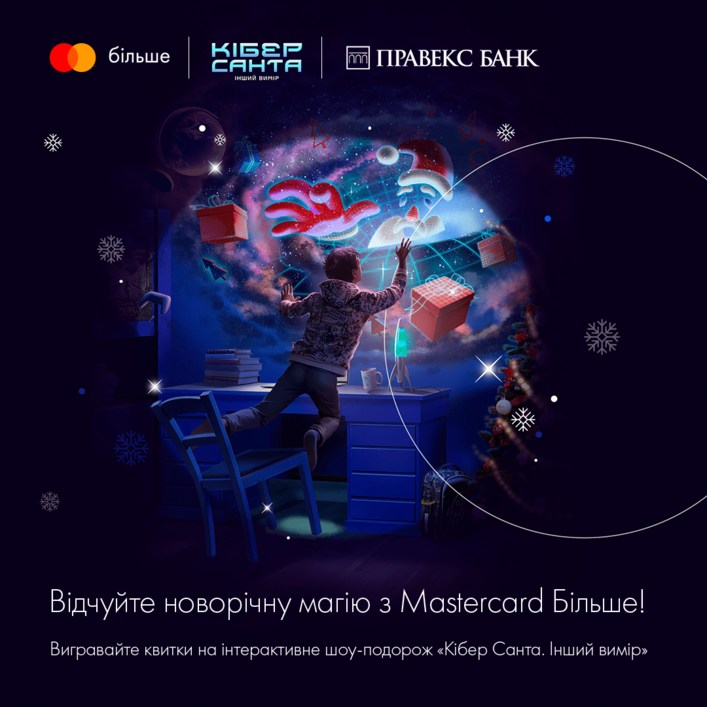 Imagine that Santa found himself in a cyberspace and started searching the way to the real world to be on time with the Christmas gifts. How can he get out of there? Win tickets to interactive travel show "Cyber Santa. Another Dimension" and participate in the exciting show.
To participate in the promotional campaign:
Please register on bilshe.mastercard.ua and pay with your Mastercard®
Exchange 1 gold or 10 silver reward points to take part in a lottery draw - the more points you collect, the higher your chances to win.
Win tickets to interactive travel show "Cyber Santa. Another Dimension"
We will hold a draw for 60 pairs of tickets for the whole period of the promo campaign.
The show will take place at VDNG Concert Hall, Kyiv (1 Academician Glushkov Avenue, P9), from December 11, 2021 to January 9, 2022.
The promo campaign will run from 01.12.2021 to 20.12.2021 within the whole territory of Ukraine, except for the area of Joint Forces Operation and temporarily occupied territories.
To prevent further spread in Ukraine of acute respiratory disease COVID-19 caused by coronavirus SARS-CoV-2, the Winner of the Campaign, in order to attend the travel show, shall follow the recommendations of the Health Ministry of Ukraine and have a document that can prove their full vaccination status / international / internal Ukrainian Covid-certificate or original certificate bearing an original seal and authenticated by a doctor's signature that confirms the negative polymerase chain reaction test result for COVID-19 and is made no earlier than 72 hours before the travel show.
For details, please see: https://bilshe.mastercard.ua/special-offers/10500