30.08.2021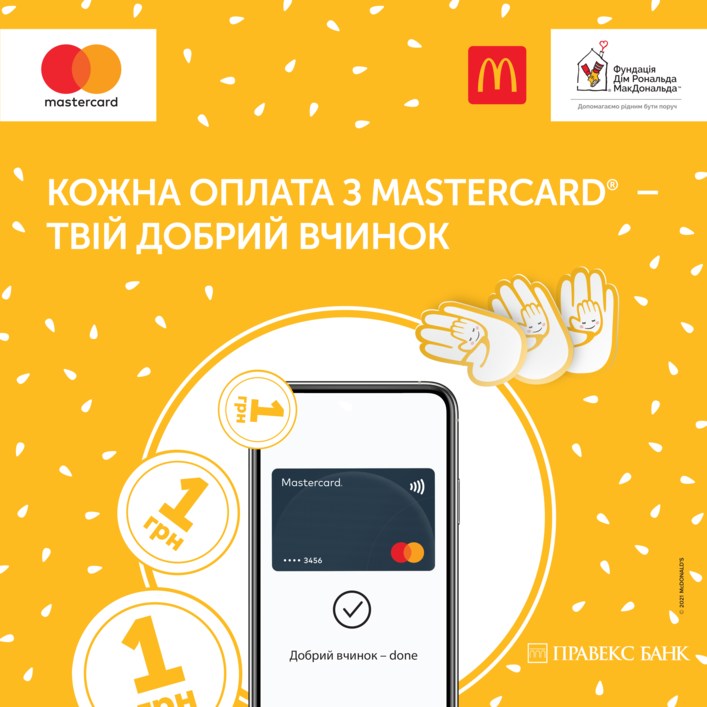 Do good things with Mastercard and McDonald's!
Make payment with your smartphone with Mastercard® card of PRAVEX BANK in McDonald's chain and from each of your payments 1 hryvnia will be donated to maintenance of Family rooms in children's hospitals of Ukraine.
By paying with Mastercard card of PRAVEX BANK in a contactless way (via smartphone, smart watch or smart band) for any order for any amount in McDonald's chain in Ukraine, UAH 1 (excluding VAT) will be donated to support Palm of Happiness charity program. Transfer of funds is carried out by FIE "McDonald's Ukraine Ltd" following the end of promotion and on the basis of report provided by Mastercard company for the period of promotion. The cost of order shall be determined according to prices set out in McDonald's restaurants. The promotion is available from August 26 to September 30, 2021 inclusive in all McDonald's restaurants of Ukraine.
You can find more details at mastercard.ua and rmhc.org.ua