28.03.2018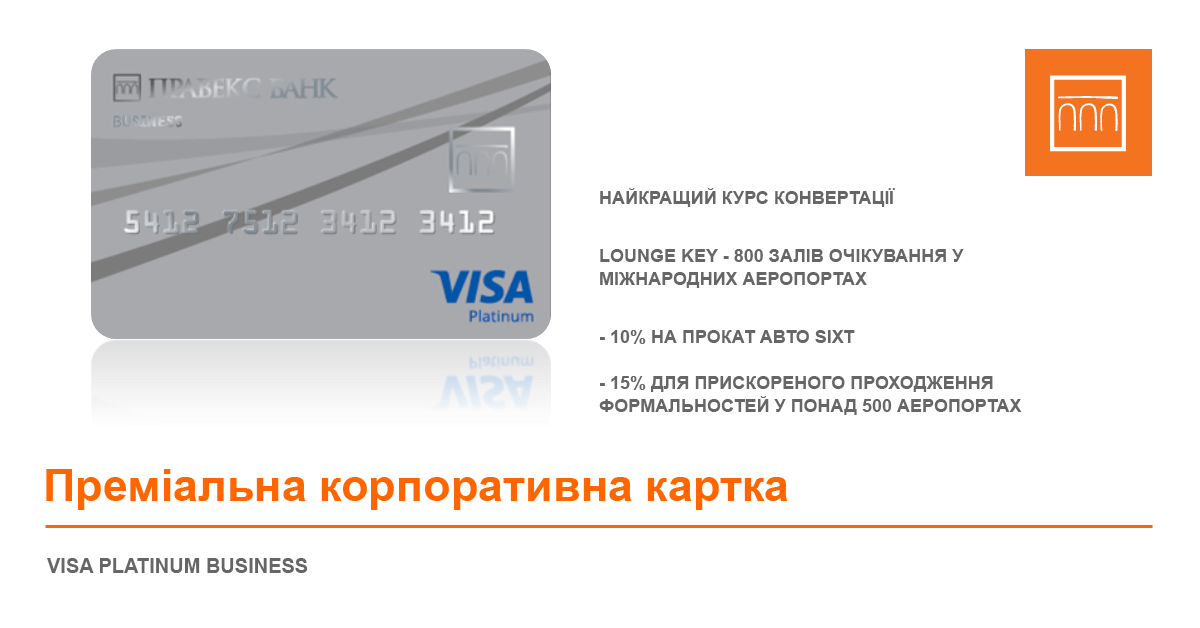 corporate Premium card Visa Platinum Business is a reliable tool for cash flow management.
Free get unlimited number of cards to improve the efficiency of business processes of the enterprise and to control costs associated with the main activity of the company:
convenient and quick purchase of goods or accounts payable,
expenses for business trips in Ukraine and abroad, as well as hospitality (hotel, car rental, booking tickets, restaurant, official receptions, cultural programs)
business expenses (stationery, office equipment, furniture, gasoline, etc.).
Key benefits:
cost control staff through SMS-banking,
no need to buy foreign currency for travel abroad: automatic conversion of funds at the rate of PRAVEX Bank the best conversion rate among banks of Ukraine,
the card account currency – UAH, USD, EUR,
connect all corporate cards to the service Lounge Key - visit more than 800 comfortable Lounges at international airports around the world
global information 24/7 support from Visa,
stay at the most luxurious hotels in the world,
up to 10% discount on car hire Sixt worldwide
15% discount on the service fast track formalities in more than 500 airports around the from the company yQ and many more.
read More about corporate cards.
Information:
PJSCCB "PRAVEX-BANK" is part of a banking group Intesa Sanpaolo (Intesa Sanpaolo), which ranks among the leading banking groups in the Euro zone and is a leader in all areas of business in Italy. PJSCCB "PRAVEX-BANK" is constantly improving its work, raises the standards of provision of banking services and become better for its customers and partners. Intesa Sanpaolo is among the top banking groups in the Euro area and is a leader in all areas of business in Italy: retail, corporate and private capital management. In Italy, the Group serves 12.6 million customers through a network of 4800 distributed throughout the country offices, its market share is not less than 12% in most Italian regions. Intesa Sanpaolo is represented in the countries of Central and Eastern Europe, the Middle East and North Africa, approximately 1,100 offices and 7.6 million customers, which relate to subsidiaries of the Group engaged in commercial banking in 12 countries. In addition, an international network of specialists in support of corporate customers represented in 26 countries, in particular in the middle East, North Africa and areas where Italian companies are most active.