26.07.2017
World Elite the package FAMIGLIA is the card with the highest class in the line of payment cards with which will give You:
1. Feeling all the benefits of luxury services and unique privileges at any time and in any corner of the world.
2. A visit to the free Lounges Маstеrсаrd in such airports as Kiev, Budapest, Bucharest, Vienna, Prague, Moscow, Tbilisi, Batumi, Chisinau.
3. Free Fast line airport until 31 August 2017
meeting passengers at arrival (from the aircraft) or flight (airport terminal);
personal support passenger service officer "Fast line";
organization of accelerated passing by the passengers passport, customs control, control of aviation security;
registration of tickets and baggage;
assistance to passengers with the offering, loading and unloading Luggage and/or carry-on baggage;
packing Luggage at the airport;
delivery of the passenger (including minor children unaccompanied by adults) to/from the aircraft comfortable transport.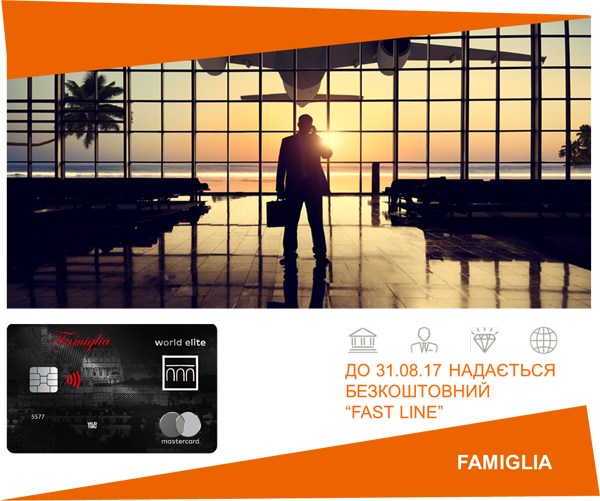 MasterCard World Elite is exceptional service, the highest level of service, security and privacy, special financial and non-financial services.
package FAMIGLIA with a map of the World Elite 4 900 UAH. (depending on selected options as 01.07.2017).
More about package FAMIGLIA: https://www.pravex.com.ua/chastnym-licam/pakety-uslug/paket-poslug-famiglia
information service of the Bank: (044) 201-16-61 (Kyiv), 0 800 500 450 (free of charge in Ukraine from fixed and mobile phones).
background:
the Intesa Sanpaolo Group is one of the largest in the Eurozone. As at 30 June 2017 the market value of 46.4 billion euros. The group is leader in Italy in all banking activities (retail, corporate segments and financial management) and serves 11.1 million customers in 3 900 offices throughout Italy; the market share of the Group in most Italian regions is not less than 12%. Intesa Sanpaolo is also present in Central and Eastern Europe, the Middle East and North Africa. In these regions there are about 1, 100 offices and 12 countries, where subsidiary banks operate, the Group, the number of retail and corporate customers reaches 7.7 million moreover, an international network of professionals working with corporate clients covers 27 countries, in particular, the middle East, North Africa, and the regions where active work of the Italian company: the United States, Brazil, Russia, India and China.