20.06.2017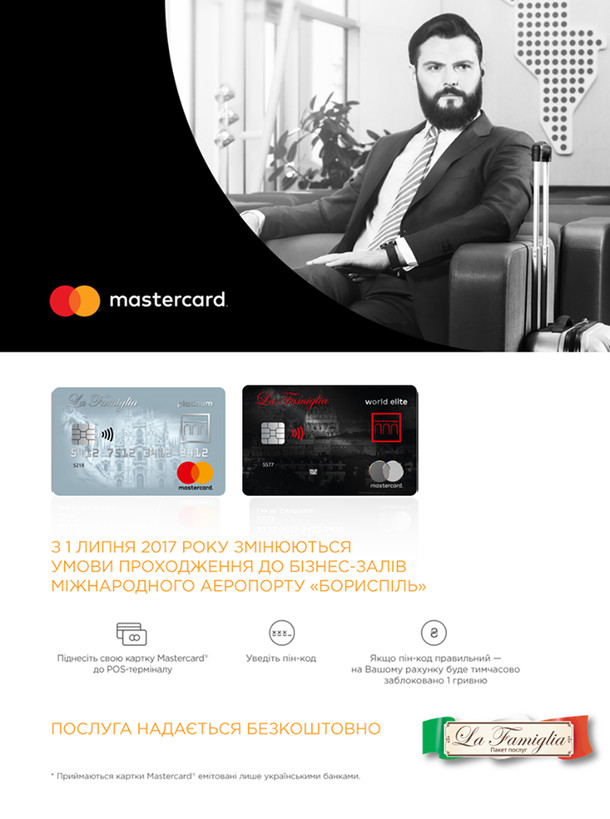 S 1 lipnja 2017 roku will be changed procedure access the business lounge Mastercard Lounge in terminal D international airport "Borispol" on the cards MasterCard Platinum/MasterCard World Elite - will be enabled check the balance on the card.
When holding the card through the POS terminal at the entrance to the business lounge will be temporarily banned from 1 UAH.
At the same time, conditions of entry and residence remain unchanged:
1. Premium card pakete poslog FAMIGLIA WG PTCB "PRAVETS-BANK" - Platinum Mastercard®, World Elite Mastercard®.
2. Card is active with a minimum balance of one hryvnia.
3. Children under 4 years are free accompanied by an adult.
Recall that in the framework of the pakete poslog FAMIGLIA clients are able to register a card for your child since 4 years.
More about the package FAMIGLIA: https://www.pravex.com.ua/chastnym-licam/pakety-uslug/paket-poslug-famiglia
information service of the Bank: (044) 201-16-61 (Kyiv), 0 800 500 450 (free of charge in Ukraine from fixed and mobile phones).
background:
Banking Group Intesa Sanpaolo (Intesa Sanpaolo) was formed by the merger of Banca Intesa and Sanpaolo IMI. The merger brought together two major Italian banks with shared values, with the aim of sustainable growth, improving service for retail customers and making a meaningful contribution to the country's economic growth.
Intesa Sanpaolo is one of the largest in the Eurozone. As of may 31, 2017 it market value of 42.7 billion euros.
Group is leader in Italy in all banking activities (retail, corporate segments and financial management) and serves 11.1 million customers in 3 900 offices throughout Italy; the market share of the Group in the majority of Italian regions is not less than 12%. Intesa Sanpaolo is also present in Central and Eastern Europe, the Middle East and North Africa. In these regions, there are about 1, 100 offices and 12 countries subsidiaries of the Group, the number of retail and corporate clients reaches of 7.7 million