Dear clients!
You have the opportunity to connect your cards to Apple Pay and Google Pay mobile payment systems for contactless payment by devices (smartphone, watch).
---
From 22.05.2020 the following has been implemented:
New functionality for the mobile application of the PRAVEX ONLINE system, namely: setting / changing the PIN-code and card activating;
New functionality for the PRAVEX ONLINE system, namely: formation of account and card statement in EXCEL format. It will soon be available for mobile applications;
Chat bot "PRAVEX BANK" in the messenger "Telegram". Where you can: change limits, block the card, get information about branch addresses, get a link to the site with information about loans, deposits and cards.
WARNING! When you log in to the mobile application, you will receive a message about the need to install an update, the previous version will be blocked (if you have not installed the latest version of the application).
We continue to work on improving remote communication channels with you and will offer you new opportunities.
Thank you for choosing PRAVEX BANK!
_
On 21.10.2019 mobile version of ONLINE PRAVEX internet-banking was launched
The application can be openly accessed on Google Play and App Store. When developing the application, we worked on intuitively comprehensible design, safe and comfortable logon, an updated technical platform. That is why it will be more conveniently and quicker to work with the application than with Web version.
In ONLINE PRAVEX mobile application you can access:
Transfer from card to card (between your own cards and cards of other banks);
Conversion between the cards (from UAH card to USD/EUR card and reverse transactions);
Option of changing settings (login, password, language of application);
Generation of statements of cards/accounts;
Viewing the information on deposits, loans, current accounts and cards;
Generation of loan repayment schedule;
Touch ID;
Scanning a card of recipient when making card to card transfers;
Automatic filling in password when confirming transactions
Setting and changing the PIN code on the card.
The following releases will bring about convenient transfers with use of transfer reference details, templates, purchase/sale of foreign currency, regular payments, transaction archive, transactions of individual entrepreneurs in line with the priorities set by you.
We constantly work on improving ONLINE PRAVEX system and its mobile application.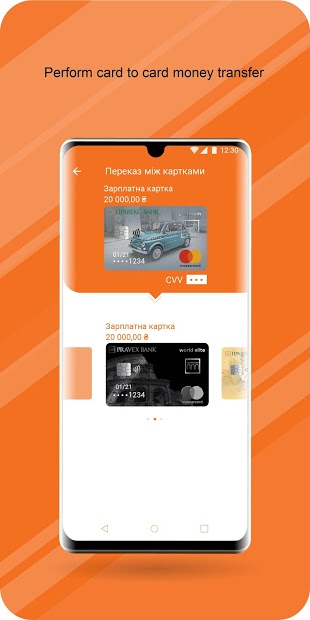 PRAVEX ONLINE allows clients to:
View balances and basic information on current, card and deposit accounts, and generate statements for the period.
View basic information on loans, to form a payment schedule.
Make payments according to the payment reference details.
Make transfers from any cards in the "Card-to-card transfers" mode (free replenishment of cards within FAMIGLIA service package).
Use the ATMs map of the Intesa Sanpaolo Group.
View the archive of performed transactions.
Make payments from the card / account (transfer of funds from the current / card account using payment reference details).
Order cash loans up to UAH 100,000.
Card management: change the limit, cancel CVV.
Make regular payments - automatic payment of bills.
Online currency purchase from the card.
Setting and changing the PIN code on the card.
Correspondence with the Bank.
Accessibility of PRAVEX ONLINE for private entrepreneurs in the following functionality:
View information on current accounts;
View information on deposit accounts;
View information on credit accounts;
View information on business cards;
Loan repayment schedule;
Current statement;
Form / view / print of statements on deposit accounts;
Payments from current accounts of private entrepreneurs;
Transfer from the business card of a private entrepreneur to the card of individual (p2p).
In the nearest future, the functionality of the system will be extended.
The clients registered in the system automatically receive Passive access. Passive access includes only viewing of information under accounts and generation of statements and schedules. To obtain Active Access, which will allow you to make transfers and payments in the system, you have to contact any branch of PRAVEX BANK to sign an agreement to connect to the Internet banking service for individuals.
For the first logging in to the PRAVEX ONLINE system, you must make a simple registration in accordance with the Instructions for working with the PRAVEX ONLINE system and read the RULES for servicing individuals in the system (section Servicing individuals in the system "PRAVEX ONLINE" and providing Internet banking service for individuals").