Coronavirus: work of the Bank during quarantine
Important notices
Message from Gianluca Corrias, the Chairman of the Management Board of "PRAVEX BANK" JSC regarding bank operationing within the COVID-19 situation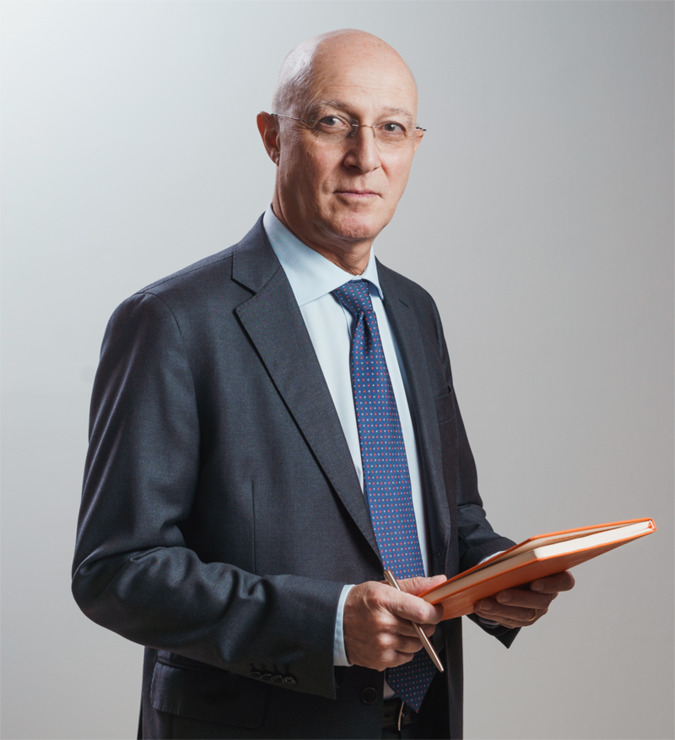 These are troubled times. We live today in a world very different from that of even a few months ago and we must be immensely grateful to frontline workers across the globe risking their lives to save others. Our heartfelt thanks to all of them.
We at Intesa Sanpaolo have always stood alongside people in times of crisis, counting on the solidarity and talent of our staff. The same is true today.
Our network continues to serve businesses and families with dedication and care. We invite our customers to use digital banking for their everyday needs comfortably at home.
Our call centers and branches are operating under remarkable pressure at a moderate but steady pace, guaranteeing everyone's safety.
Our international clients can also enjoy our usual high standard of service as they adjust to this new way of operating. We'll help companies navigate their difficulties and ready themselves for the future.
In Covid-19, we face an enemy like none we have faced before.
Intesa Sanpaolo is committed to helping our country, companies and people win through. We'll be by your side, because we take care of what you care about.
Always together.
Gianluca Corrias, the Chairman of the Management Board of "PRAVEX BANK"
---
Dear clients!
Our main value in this difficult time is your safety, health and the ability to rely on us as your financial partner. As the Chairman of the Management Board, I appeal to you ensuring that Pravex Bank constantly follows the situation and adheres to all the recommendations to ensure the continuity of the bank processes and the safety of you and our bank staff.
According to the Ministry of Health of Ukraine advice and other measures taken by the country's government, we urge you to stay home, use online banking and, if possible, avoid visiting branches to avoid unnecessary contact.
As for the operations in the branches, currently most of the branches are working, but we will gradually and temporarily close some of them, enabling them to visit once a week or by appointment through the contact center - a permanent list of branches and their operating mode we constantly update on the bank's website.
Our branches are daily disinfected, aerated, the workers are provided with masks, gloves and antiseptics, demarcation lines are drawn helping you keep a distance. Branches serve no more than 3 clients at a time, only in masks and at a distance.
We do not impose restrictions on currency purchases through the cashier, but we still recommend doing it online. We do not limit the issuance of your funds, even if we need to temporarily close a number of the branches for safety, you will have the opportunity to receive a service if it is necessary.
We have transferred most of our employees to remote work and can ensure process continuity and safety at the same time.
Now our society faces a significant challenge, but I believe that our joint efforts to combat the spread of the virus are key to a victory. Thus, take care of yourself and your loved ones, stay home, and step by step we will return together to the usual lifestyle.
---
Dear Customers, In order to prevent the spread of coronavirus infection, COVID-19, PRAVEX BANK banks' branches, starting from 26.05.2020, operate in the following mode:
Branches are working from 09:00 till 17:00, break from 13:00 till 13:30 aсcording to the List of branches and working hours https://www.pravex.com.ua/otdeleniya-i-bankomaty. We recommend as much as possible to choose remote services anduse Pravex Online, which allows you to pay for utility bills, transfer money, pay off a loan, buy currency, pay for goods or services online.
We also recommend using bank cards rather than cash.
All potential clients could get acquainted with our products in our web-site https://www.pravex.com.ua/ and to order a product in remote mode. The bank's contact center will provide a consultation and will invite a client to a branch as soon as quarantine will end.
ATMs work in normal mode.
Also, we remind you that taking into account the recommendations of the World Health Organization, the Ministry ofHealth of Ukraine, as well as the recommendations of the National Bank of Ukraine, the bank has already taken all possible actions to safeguard your health when accessing branches, and the one of its employees (disinfection, antiseptics,online mode of meetings, remote mode of work where possible and other).
For further recommendations or changes, if we receive new recommendations from the authorities, we will keep you informed on the bank's website and other communication channels.
Questions and answers to the most frequently asked questions about the situation
Regarding the extension of the validity period of the card
Dear customers!
PRAVEX BANK, taking care of your health and in order to comply with the quarantine regime, extends the validity of all payment cards, if it falls during the quarantine period. The extension of validity applies to private and corporate cards, regardless of the package of services in which the payment card was issued. The validity period will be extended until the end of the quarantine and the client receives a new payment card.
We draw your attention to the possible difficulties in performing transactions using extended payment cards, which are associated with the individual settings of the equipment on which the transaction is performed.
Cash withdrawal operations at ATMs should be uncomplicated.
When performing transactions for payment for goods and services using trade pos-terminals, we recommend performing operations with reading the chip in the pos-terminal (in case of difficulties with contactless payment).
Transactions for payment for goods and services using trade pos-terminals and payment cards with a magnetic stripe should take place without complications.
When making a payment for goods and services on the Internet, it is necessary to indicate the validity of the card, which is indicated directly on the card.
We recommend using PRAVEX ONLINE internet banking to transfer money from card to card and by details, as well as to pay for utilities and mobile phone replenishment.
If you have any questions or problems when performing card transactions, please contact the phone numbers indicated on the card.
During the quarantine period, we recommend using Internet banking and a mobile application, limiting cash payments and paying for goods and services, in particular on the Internet using payment cards.
Bank branches, working hours
In order to prevent the spread of infection coronavirus COVID-19 since 26.05.2020 all branches of PRAVEX BANK have been operating from Monday till Friday, from 09:00 to 17:00, break 13:00-13:30.
Map of branches and ATMs, working hours etc, available at: https://www.pravex.com.ua/en/otdeleniya-i-bankomaty
What you can do without visiting a branch
During the quarantine for Your own safety we recommend the use of Internet banking PRAVEX ONLINE, which allows You to manage a wide range of services of the Bank and to pay over to thekomunalni services, transfer funds, to repay the loan, buy currency paying for goods and services via the Internet without the need to visit a branch.
Service PRAVEX ONLINE has a mobile app in Google Play and App Store.
Service PRAVEX ONLINE allows customers to:
to View the balances and the basic information on current, card, Deposit accounts and to produce statements for the period
to View basic information on loans to form the payment schedule
Carry out payments details
transfers from cards of any mode "Translation from card to card" (free replenishment card FAMIGLIA)
to Use the card of ATMs of the Intesa Sanpaolo Group
to View an archive of completed transactions
to make payments from the card/account (transfer of funds from the current/card account for details).
Order cash loans up to 100 000 UAH.
Manage map: to change the limit, to abandon CVV
to make regular payments automatic payment of bills.
Correspondence with the Bank.

Download the manual PRAVEX ONLINE manual.pdf
More about PRAVEX ONLINE
important contacts
Contact center 0 800 500 450 - Free of charge in Ukraine from fixed and mobile phones
Health Protection Measures
IN ORDER TO PREVENT THE DISSEMINATION OF CORONAVIRUS INFECTION COVID-19
Use a protective mask,
Keep your distance up to 2 meters
Use antiseptic,
Do not enter the department for more than 3 people.
WE RECOMMEND:
1. Use PRAVEX ONLINE in which it is possible to: pay utility bills, transfer money, repay a loan, buy currency, pay for goods or services on the Internet.
2. Use bank cards, not cash.
Given the recommendations of the Ministry of Health of Ukraine, as well as the recommendations of the National Bank of Ukraine, the bank takes all necessary measures to ensure the safety of customers in departments and employees: disinfection, antiseptics, transfer meetings online. As for further recommendations and changes, if we receive new recommendations from authorized bodies, we will inform you on the bank's website and in other communication channels. All potential customers can familiarize themselves with our products and services on the website www.pravex.com.ua and order them remotely. The PRAVEX BANK Contact Center will advise and invite customers to the department as soon as the quarantine ends.