Now PRAVEX BANK clients can pay for goods with Apple Pay service
Easily, quickly and securely pay for goods and services with your phone or smart-watch wherever there is an Apple Pay or non-contact payment mark. Apple Pay works wherever contactless payments are accepted. Look for any of these badges at the cash desk or at the terminal.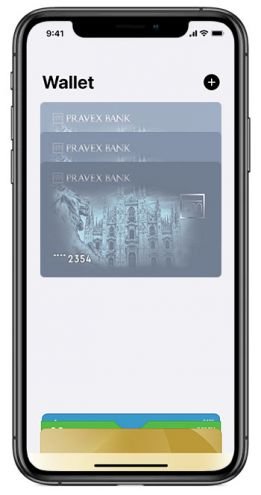 Adding your card to Apple Pay is simple. Here's how to get started with iPhone
Click the "+" in the upper right corner of the screen.
Scan the card or enter its details manually.
Accept the rules and terms of use.
Choose the way of your card check in Apple Pay (default it is SMS with OTP code).
Enter the verification code you received in SMS.
The card is added. You can pay for pay for goods just with double-click the button on the side of smartphone.
Mark your favourite PRAVEX BANK card as a method of payment by default J («Settings» > «Wallet and Apple Pay» − «Payment parameters by default» − «Card by default»).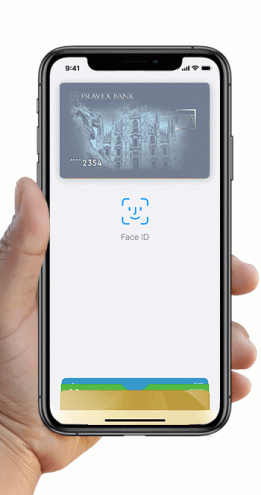 Apple Pay payment methods: iPhone
iPhone with Face ID
Double-click the button on the side, look at iPhone to verification using Face ID, bring your iPhone to the terminal.
Written on the screen "Ready", it is easy to select and sound signal to notify about the successful operation.
iPhone with Touch ID
Bring your iPhone to the terminal with your finger on the Touch ID.
The caption on the"Finish screen", the light vibration and the beep will alert you about the successful operation.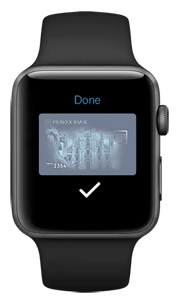 Apple Watch
Open Apple Watch application in iPhone and find tab «My Watch» − «Wallet and Apple Pay».
To add the card select section «Add card» and enter its details.
Receive SMS with verification code, press «Next» and enter it in the relevant field. Done! Now you can pay with one movement of your hand!
Apple Pay payment methods: Apple Watch
Double-click the button on the side and turn the Apple Watch to the terminal.
An alert will inform you that payment information has been sent.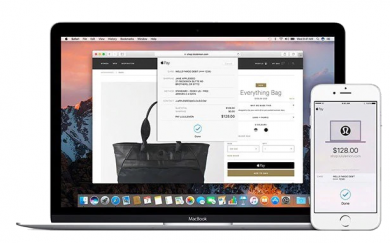 Apple Pay payment methods: Mac in Safari
To pay for Macs in Safari, choose Apple Pay.
Then you will be able to complete the purchase order on your iPhone or Apple Watch.
FAQ
How to install Apple Pay?
The Wallet app is available by default on the iPhone version no lower than the iPhone 6, MacBook Pro, iPad or Apple Watch smartwatch.
What card can be added to Apple Pay?
You can add the following Pravex Bank payment cards with both a magnetic tape and a chip: Debit Mastercard ®, Platinum Mastercard ®, World Elite Mastercard ®, Visa Classic, Visa Platinum, Visa Signature and Visa Platinum Business.
How many cards can be added to Apple Pay Wallet on the same device?
Up to 12 cards can be added to Apple Pay Wallet on the iPhone 8, iPhone 8 Plus and higher, as well as on the Apple Watch from the Series 3. You can add up to 8 cards to earlier models of watches and smartphones, as well as to tablets of any model.
How many devices can you add the same card to?
You can add card to 10 devices.
What devices can be used with Apple Pay?
Is there a fee for using Apple Pay?
No, Apple Pay using is free.
What to do if I lost my iPhone?
If your smartphone or other device to which your cards have been added is lost or stolen, you can block (suspend) or delete tokens via iCloud yourself, or contact the Bank Contact Center to block or delete them. There is no need to block the card.
What if I lost a card that was added to Wallet?
If you have lost the card or suspect theft, the card must be blocked. It is not necessary to block token.