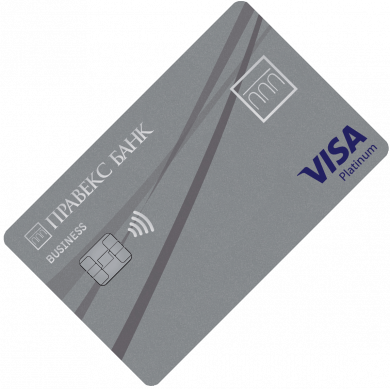 Visa Platinum Business Pay Wave
Premium business card;improved business processes
Premium corporate card increasing the efficiency of business processes of the enterprise
Card account currency – UAH, USD, EUR
Validity of the card: 3 years
Purpose of corporate card:
costs related to the main activity of the enterprise (purchase of goods, settlements with suppliers);
business and travel expenses (hotel, car rent, tickets reservation, restaurant, etc.);
economic expenses (stationery, gasoline, etc.).
Advantages:
Free attendance of business-halls within Lounge Key area
The holder of Visa Platinum Business can attend of any of 1,000 business halls around the whole world free of charge.
Connection of the card to Lounge Key: automated and free of charge. There no requirements regarding trading turnover on the card.
Maximum number of visits: twice a year.
Fee of the 3rd and all further visits – 32 USD (the amount will be debited directly from the card account of the client at the moment of passage).
Fee of attendance for guests – 32 USD per each person (free attendances do not concern guests).
The number of guests that the client can bring with him/her: 3-6 persons (is set by the rules of each hall). Children: to 4 years old can attend the majority of halls free of charge.
Time of stay: up to 3-4 hours (according to the rules of each hall).
In order to enter business-hall Lounge Key, the client should have an active card Visa Platinum Business; while entering to inform the employee of the hall that he or she is a member of LoungeKey; to present the boarding pass and the document confirming the identity. The name on the card, on the boarding pass and on the document should coincide;
If the holder's card is active and free attendances are available, it is possible to attend business-hall without payment (USD 32).
The list of halls: https://www.loungekey.com/en/visacisseeloungeprogramvi/our-lounges
Information on location of the halls: at the airports there are information boards with the logo of Lounge Key halls; there indications on the Web-site and in the mobile applications: App store and Playmarket.
Free packing of luggage at "Boryspil" airport – Maximum number of items: 2 items of luggage per year.
Quick passage of formalities at "Boryspil" airport
The possibility to use 10 times a year free service: a separate desk in registration area; a separate line in the area of security control; a separate line of passport control in the arrival and in the departure area;
Order